Neil Eccles
Member
General Committee
GC Support Team
MOA Position

Website Editor
Boat name

CUTAWAY
Berth

Vannes
Boat type

Moody 42
Cruising area

West Coast of France and North Coast Of Spain
The upgrade is complete, but one thing has change and that is the
Forum Watch facility.
Previously this was an add in, which has now been replaced by an inbuilt facility which can also watch the Technical Library for you
If you want to be notified of new threads or new posts in a forum or Technical Library , you have to enable it individually. For example, I sail in the West Coast of France and there is a Forum for that. To enable the facility

After pressing "Watch Forum" you get this screen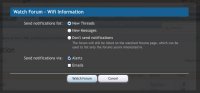 Read this very carefully - this will give you an Alert (only visible when you log in) when someone starts a new thread. Any further posts won't be notified.
You can change this easily.
I prefer the setup below
which emails me when someone starts a new thread or puts a new post on that thread.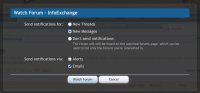 Once you have set it up, you can modify your watches individually or globally by pressing the "Watched Threads: link underneath the main horizontal menu bar. This gives the screen below. Only the Forums you are currently watching will be displayed, but you can modify the alerts or cancel them by ticking the little square box and selecting in the drop down box at the foot of the screen. You can use this several times to achieve just the mix you need.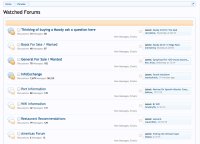 You can also use this facility to
watch resources
- the Technical Library etc in our terms
On my computer, I just clicked "Moody Owners Technical Library" and up came the option to watch the category on the right of the screen. I just clicked "Watch Category" to receive updates and new resource notifications for all of the Library, but if you are only interested in a few topics, say your own boat model and the "All Types - generic information", just watch those individually. e.g. the Moody 27 below.

Profiles
While you are at it, why not check your profile. Just hover over your logged in name on the top right of the screen to get the options. First check your Preferences by clicking that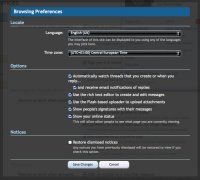 In particular check that the first two boxes under Options are ticked - these are "Automatically watch threads.... "
and "and receive email...."

Save the changes, then look at Alert Preferences - check that the top 5 boxes are checked. You don't need the second "Attaches a file.." so don't worry if that is not ticked.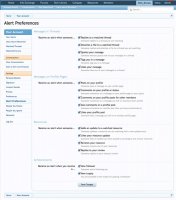 I do hope this helps

Kindest Neil
Last edited: